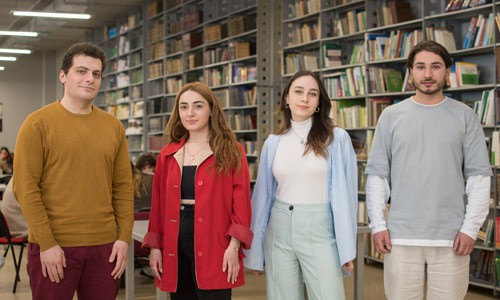 13 Apr. 2022
The company "Nikora" continues to pay scholarships to the students of food technology at the Georgian Agricultural University this year, as well.
While speaking about the professions of the future, we mainly think about the directions connected with modern technologies. However, one of the major directions of the future is food technology, which is quite a wide sphere and comprises in itself various sub-fields, including food technology, food safety, nutritiology and even culinary. If one wants to become a good cook and chef, he/she must necessarily have a competent knowledge of food technologies with their scientific parts.
Food safety is becoming more and more actual year by year. The market is full of various products, the quality and safety control of which is hugely important. Before appearing on your plate, food undergoes a long path of food chain. At different stages, it may be disrupted and produce an undesirable result. The profession of food safety and highly qualified personnel is becoming increasingly requirable exactly due to the actuality of this very problem.
In Georgia, students are offered the undergraduate and graduate programs in food technology by the Agricultural University. Students will study each subfield of food technology and have the opportunity to determine for themselves in which direction to continue their activities after graduation. Private businesses also take care to raise their motivation, in this particular case, this is "Nikora", which has been producing food for 24 years and at the same time, supports students. A few years ago, the company established the Nikora Semester Scholarship for the 4 most successful food technology students, it also employs students in the enterprise and tries to help increase the number of highly qualified specialists in food technologies.
The students of food technology themselves also note that the interest in their faculty is growing from year to year. Due to the development of the sector, they are given interesting and career-oriented employment opportunities.
Mariam Zeinklishvili, a third-year student of food technology, "Nikora" scholar:
"Food technologies are very interesting for me. In the decision-making process, I also took into account that there are very few specialists in this field. I set a goal to learn in this direction and achieve success. It is really a very important profession. We study a number of interesting subjects, including various sciences that are not taught anywhere else. This is a rather difficult profession, but interesting and diverse. The Nikora scholarship is also an incentive for me. When you see that you are valued for what you do, you try to do it better in the future. In fact, our sphere lacks attention. It should be more appraised. That is exactly why support from private business, even in the form of scholarships, is very important for us, for students, for future food technologists, for nutritionists, for food safety specialists."
Giorgi Rtveliashvili, a fourth-year student of food technology, "Nikora" Scholar:
"The food industry is a very large and important field. It needs to be properly developed in Georgia. The process of its development is underway right now and I am very delighted that I am also involved in this process. I have not yet decided exactly in what direction I will continue my activities. I have been very interested in cooking since childhood. Also, I loved physics, chemistry, math. So, I decided to enroll in this faculty, although in the process of studying, I realized that it was a much larger field. The more I studied, the more I became interested in different sub-fields. Culinary was inceptive of what brought me here, but now I want to gain experience in different areas and finally, therefore, I will decide in which particular sub-field to continue my activities. I also became a scholar in the learning process, which was another additional incentive for me to study better. Such motivational support helps students become professionals."
Meri Kiria, a third-year student of food technology, "Nikora" scholar:
"When in school, I really liked chemistry, biology, and I studied well. When the time came to choose a profession, I realized that there were very few specialties where I would have to pass exams in these subjects and study them. I didn't want to enroll in Tbilisi State Medical University. That is why I chose the Faculty of Food Technologies. This is an area of synthesis of creativity - culinary and science. Everything turned out to be very interesting for me. The scholarship, which is a great support, also motivated me in the course of my studies. Students of food technologies are especially in need of this support today since the popularization of this direction in the country represents a necessity."
Nika Gomelauri, a fourth-year student of food technology, "Nikora" scholar:
"When you hear about the Faculty of Food Technologies, it sounds a bit dry. In fact, our work is very interesting, we study science very deeply. This is a much more scientific activity than society considers it to be. I would like everyone to know and popularize this profession since its development is very important in Georgia nowadays. We, each student or company working in this field, must make a contribution to it. When I passed the exams, I discovered that it was that interesting and I also obtained a scholarship, many young people in my region became interested in food technologies and they became students in this field as well. Nikora's scholarship was very important in this process. The popularity of the culinary also helps the development of our field. If you want to be a good chef, you need to master food safety and nutritiology. Food technologies, food safety and nutritiology are very interesting fields that offer good employment and development opportunities for students."