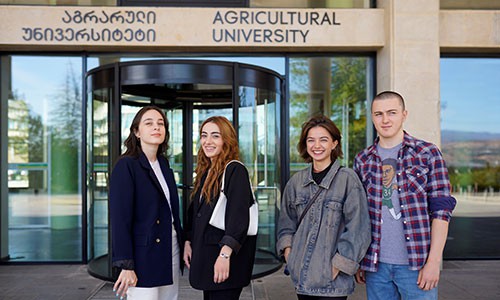 21 Oct. 2022
Food technology is one of the professions of the future world. Interest in this area never weakens. On the contrary, together with the development and improvement of the food market, more and more attention is given to this profession and the young generation expresses more interest in this area as well. Nikora, the largest meat products company in Georgia, has been taking care of encouraging students of the Faculty of Food Technologies already for 4 years. The company is trying to promote an increase in the number of highly qualified food technologists, for the purpose of which it will once again provide a semester scholarship to the 4 students with excellent academic performance in the food technology course of the Agrarian University.
The students of the Agrarian University, who became Nikor scholarship holders in the current semester, will be introduced to you.
Sandro Onashvili, a 3rd-year student of food technologies, Nikora scholarship holder:
"I am a 3rd-year food technology student, although I originally enrolled in biology faculty. After the first course, I realized that I was not ready for scientific work. After much deliberation, I decided to move to food technology. The reason was that food technology was close to my interests, and, in addition, it is a very promising direction. My belief in life is that whatever you have a hand in and if you do your best, you will definitely succeed. Having a small foundation and the desire is enough, you will build great knowledge and success on it. Today, competence and knowledge are valued in all areas. That is why, I do believe, I can successfully work in the field of food technology. Currently, I am particularly interested in the production of dairy products. I am interested in biology and also love dairy products. In general, the field of dairy technology has great potential, besides, there is a shortage of highly qualified personnel as well.
Along with the study and deepening in this area, there is more interest to come. It is impossible to know exactly in which direction you want to work in the first year of study. Even at this stage, I do not know exactly in which direction I will continue my studies in the magistracy. I have a rough plan, part of which I will fulfill according to my wishes, and part of which life will bring itself. It would be nice to be able to plan everything, but that doesn't happen.
The scholarship received during my studies turned out to be an even greater motivator for me. I realized that my studies are appreciated and I will continue to move towards the goal with greater determination. The scholarship will help me enjoy my studies more. I think it's very important to like what you do. There are always difficulties in life, and things cannot go the way we want, but I do believe that there are no bad experiences. We learn something from each step we take. One of such important steps for me was the change in the studying program and the transition to food technology. It made me more realistic and a better person, I think.
Mariam Zeinklishvili, a 4th-year student of food technologies, Nikora scholarship holder:
I am already a 4th-year student and during this period I discovered a lot of interesting things. In my 3rd year, I saw this profession from a completely different angle. At the time of choosing a profession and starting my studies, I had no idea how diverse this process could be. I am interested in both food technology and food safety as well. I am thinking about upgrading my qualifications and studying for a master's degree abroad, but I will definitely return to Georgia. I want to assist in the development of food technology in Georgia and express my opinion. The knowledge that I get at the university allows me to do this. It is also important for us to support private businesses. This is the second time I have become a Nikora scholarship holder, and this is a great motivation. Students, when we feel that our work is appreciated, we try harder to do our job better.
Salome Cherkezishvili, a 3rd-year student of food technologies, Nikora scholarship holder:
I have been interested in cooking since childhood. I have loved and love to mess around in the kitchen. When the time came to choose a profession, I was very attracted to food technology, since it was close to my interests and at the same time, I was interested in the subjects taught at this faculty. These were: chemistry, biology, physics... Now I'm in my 3rd year and we are just starting to study professional subjects. Now I am getting familiarized with different directions in more detail, so I don't know yet in which direction I want to continue in the future. However, food technology in general is understaffed and I do think there is a lot of work to be done in this area. Therefore, supporting the industry is very important. One of the best expressions of this is the scholarship that the largest meat products company allocates to students. For us, this is a sign that the field needs us and cares about us. That is why I want to continue my studies abroad, but in the end, I see myself in Georgia. I think I can say my word in this area.
Meri Kiria, a 4th-year student of food technologies, Nikora scholarship holder:
"Food technology offers students the greatest opportunities for development. This field is not just production. You can continue in the direction of food safety or quality control, choose a scientific career or become a nutritionist. The field that this faculty offers to young people is very wide. As for me, I want to continue into Nutriciology. There are very few nutritionists in Georgia, which is a big problem. It is necessary to develop Nutriciology in Georgia. People generally have a very wrong attitude towards food. A very small part of the population realizes the importance of proper nutrition. The intake of metered carbohydrates, proteins and fats is very important for a healthy and quality life. Nutritiology should not be associated only with diet and it should be understood more seriously. I will try to promote this direction as much as possible and contribute to the establishment of the correct opinion in society. I myself always eat healthy food and recommend it to others as well.
The scholarship that Nikora gives to students is very important in order to popularize our profession. By conducting this, one of the largest production companies in Georgia supports students and tells them that they are important.